A.M. Rosenthal Writer-in-Residence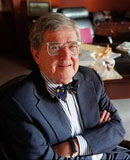 The A.M. Rosenthal Writer-in-Residence Program brings professional nonfiction writers to the Shorenstein Center and provides an opportunity for them to conduct research and work on a specific project, as well as interact with a community of scholars and students. In addition to a writing project, the A.M. Rosenthal Writer-in-Residence teaches student workshops and participates in Shorenstein Center events.
A.M. Rosenthal, former executive editor of The New York Times, was a passionate reporter and editor who had a profound influence on the shape of journalism. As an editor he oversaw the coverage of major news stories, including the Vietnam War, the Pentagon Papers, and the Watergate scandal. He won a Pulitzer Prize in 1960 for international reporting.
The program is supported by the generosity of Shirley Lord Rosenthal, the Bialkin Family Foundation, Mr. and Mrs. Ralph Lauren, the Samuel I. Newhouse Foundation, Peter G. Peterson, the Rattner Family Foundation, Ingeborg and Ira Leon Rennert, Richard E. Snyder, the A. Alfred Taubman Foundation, James D. Wolfensohn and the Wolfensohn Family Foundation.
There is no application process for the A.M. Rosenthal Writer-in-Residence position.
A.M. Rosenthal Writers-in-Residence
2019: Tara Westover
2018: Jelani Cobb
2014: Diane McWhorter
2012: Ron Suskind
2010: Tracy Kidder