Communications Program
The Harvard Kennedy School (HKS) Communications Program strives to guide students in developing and executing written, spoken and digital policy communications that foster an ethical relationship between policy experts and the public they serve.
Writing, speaking and digital communications are critical skills for professional success. By mastering these communications skills, HKS students and graduates can present themselves effectively in speeches, memos, reports, position papers, op-ed pieces, meetings, social media, and other digital venues.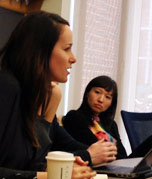 The Communications Program consists of both for-credit and not-for-credit offerings. A series of for-credit communications courses focusing on public speaking and writing are offered each semester. In addition, workshops are offered throughout the semester to offer practical guidance in topics including public speaking, memo and report writing, using social media, blogging, writing op-ed pieces, engaging in a digital environment, and cross-cultural communications. Students may take as many workshops as they like. Materials from some of these workshops are featured on our website.
In addition to for-credit courses and workshops, there are also dedicated writing consultants who work within the Communications Program. These writing consultants offer one-on-one consultations for HKS students during their scheduled office hours and by appointment.
The Communications Program website also features a wide variety of valuable references including writing, public speaking and digital communications handouts, created by the HKS Communications Program, as well as links to outside resources such as dictionaries, and guidelines on how to develop an argument, write citations, avoid plagiarism, research using the Internet, and edit your own work. While the program is not designed to replace English as a Second Language (ESL) courses, links are provided to resources in this area.
Each HKS student is encouraged to make use of all of the services provided by the Communications Program whether it is to take a for-credit course, a not-for-credit workshop, consult one or more handouts or outside communication resources, to seek out the writing consultants or instructors within the program, or to give us feedback on the Communications Program.
–Jeffrey Seglin
Director, Communications Program, Harvard Kennedy School
–Alison Kommer
Program Coordinator, Communications Program, Harvard Kennedy School