From the Director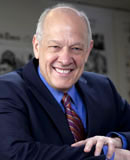 The Shorenstein Center analyzes the power of media, in all its forms, and its impact on public policy and politics. Through research, teaching, high-profile events and engagement, the Center plays a leading role in the discussion about media and politics in the 21st century. Digital technology pushes the impact of the Shorenstein Center far beyond Cambridge.
Our political climate has changed dramatically, and the myriad technological advances have changed the news business, and nearly every other business, entirely. Issues of free speech, civil liberty, national security, globalization and rising tensions between corporate and journalistic objectives confront us. The Shorenstein Center has embraced digital media and sought out new faculty, fellows, staff and speakers who are educating our students, conducting research and developing ideas about the role of digital technology in governance and other areas.
We thank all of the students, scholars, reporters, donors, conference participants, speakers, visiting fellows and faculty, and our wonderful staff, all of whom have made this a vibrant, thoughtful and collegial community. And we offer special thanks to the Shorenstein family. We are grateful to everyone who has participated in the Center and look forward to expanding our programs in new directions as we take on the challenges of the future.
Alex S. Jones
Director