From the Interim Director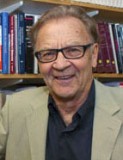 The Shorenstein Center is approaching its 30th year, a period that has seen dramatic changes in the nation's politics and even greater change in its media. The era of broadcast television news was still in full sway at the Center inception and was marked for us by the appointment of long-time network correspondent Marvin Kalb as the Center's first permanent director. His successor, Alex Jones, who had spent years at The New York Times, similarly came to us from the world of traditional media.
We are now firmly in the digital era, though it's still in an early enough stage that its ultimate effect on our politics and our journalism is murky. The Shorenstein Center has sought to keep abreast of the transformation through new faculty, fellows, staff, and speakers, as well as innovations such as journalistsresource.org. Perhaps nothing for the Center so clearly marks the change as the shift in student interest.
Navigating the digital change in a smart way is the Center's biggest opportunity as it seeks to serve at once the interests of students, media practitioners, and scholars. In this effort, we have the good fortune to have on hand a smart and dedicated staff. There might be a better staff somewhere in the Kennedy School, but in nearly twenty years here I have yet to spot it. And we'd be adrift without the support of the Shorenstein family. They have given far more than their financial support to the Center.
As I write this note, I look forward to leading the Center on a temporary basis, and then handing over the Center's leadership to a new permanent director, someone that I'm sure will be as well-suited to the current situation as Marvin and Alex were to the challenges of the past three decades. I'm grateful to Alex for his friendship and his many contributions to the Shorenstein Center over the past fifteen years. I'm thankful, too, for the many of you that have taken part in the Center's activities and want to welcome those of you who are only now discovering what we have to offer.
Thomas E. Patterson
Interim Director